6th International Conference on Equity and Inclusion in Education 19-21 May, 2022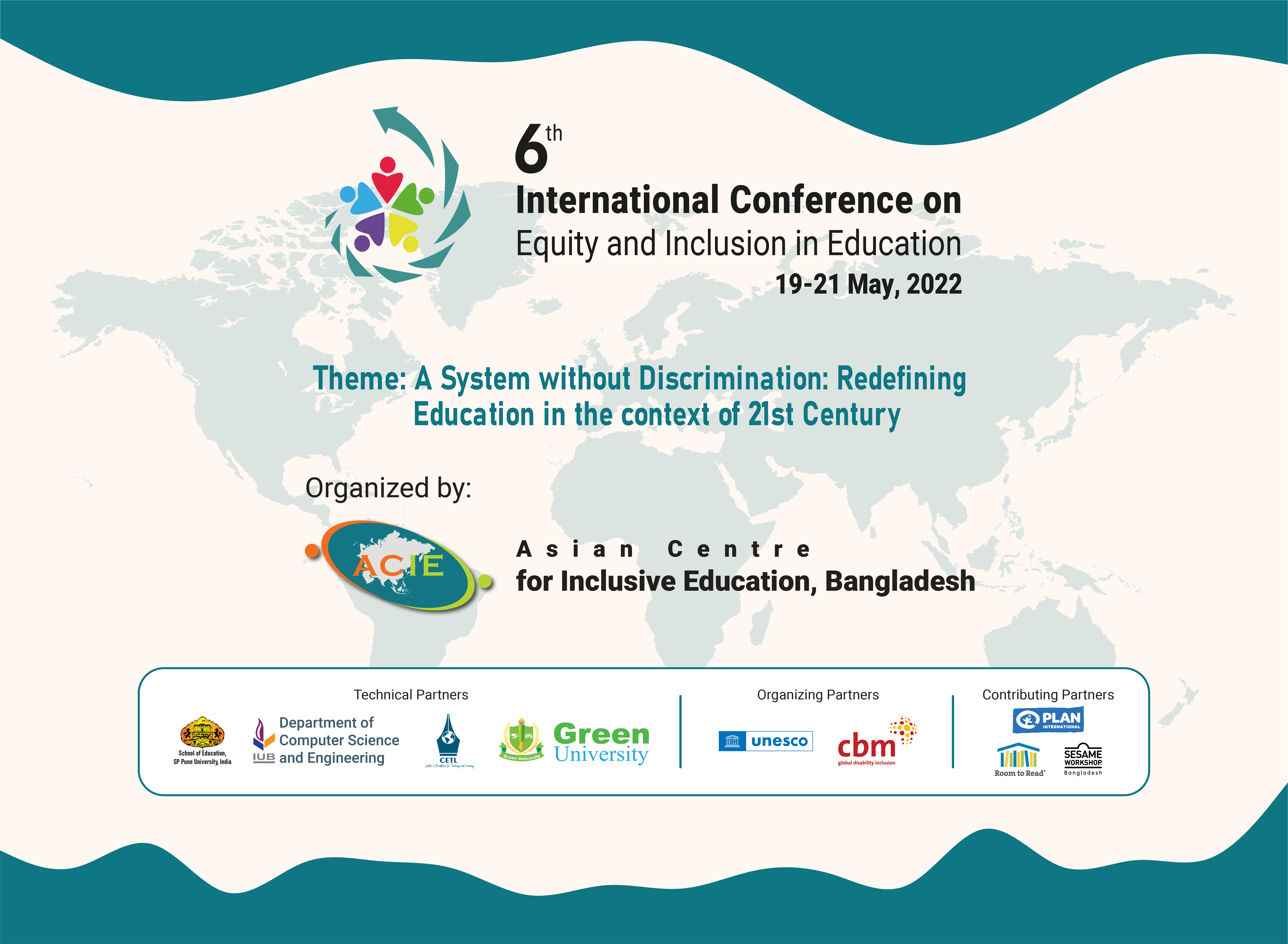 6th International Conference on Equity and
Inclusion in Education
19-21 May, 2022
Organized by: Asian Centre for Inclusive Education (ACIE),
Bangladesh
Conference Venue
Host country: Dhaka, Bangladesh
Venue: Blended Mode (Face to face & Virtual).
Conference Partners
Technical Partner: SP Pune University, Pune, India; Department of CSE, Independent University, Bangladesh; Centre of Excellence for Teaching and Learning, Green University of Bangladesh
Organizing Partners: UNESCO; CBM Global Disability Inclusion
Contributing Partners: PLAN International; Room to Read; Sesame Workshop Bangladesh
Conference Theme:
"A System without Discrimination: Redefining Education in the context of 21 Century"
Sub Themes : 
Based on the main theme, the following sub themes have been identified by conducting a consultation with
potential partners.
• Global Citizenship for Sustainable Future (GCED, ESD, Learning for Empathy)
• Future Skills for Changing Contexts (Rethinking Soft skills, Transferrable skills, Foundational skills,
Disability Inclusive TVET)
• Holistic Diversity Focused Child Development (ECCD, Adolescent Development, ASRH, Mental Health)
• Education in Emergencies (Covid-19, Displaced Children, Climate Change, Conflict Zone, School
Reopening)
• Educational Innovation for Ensuring Equity (models and practices)
• Gender Equity
• Social Inclusion
• Digital Transformation ( Ed Tech., AI, LMS)
• Transformation in Pedagogy Learning Environment and Assessment
• Collaborative Approaches for Development (Multi Level Stakeholder Engagement, OPD engagement)
Call for Papers
• Deadline for submission of abstract is 31 March, 2022.
• Acceptance of the abstract will be notified by the 15 April, 2022.
• For submission of abstract please send it to the following e-mail: aciecon2022@aciebd.org Or acie6thconference2022@gmail.com
• Participants have to submit the PPT file before the presentation.
• Participants can also submit video recording.
• Researchers from host country (Bangladesh) will be given opportunity to present paper in face to face
• Poster presentation is for students and new researchers.
• Participants interested to publish their paper must submit in full by June, 2022. Selected articles will be published in an International Peer-reviewed journal titled Asian Journal of Inclusive Education (AJIE) after review.
• The abstract for the above presentations should be limited to 200 words only with title, objective, methodology and brief findings.
• Multimedia and laptop will be available during the presentations (face to face).
A Scientific committee will review all abstracts and proposals submitted within deadline. Abstracts will be selected on the basis of their relevance to the conference theme, clarity and ability to address the breadth and scope of the conference. Selected authors will be notified after 15 April, 2022. The Scientific Committee will keep the right to decide presentation mode of each paper i.e., seminar or poster presentation.