Nirafat Anam Memorial Inclusion (NAMI) Award
This award has been named in memory of Late Dr. Nirafat Anam who was the Assistant Professor at the Institute of Education & Research (IER) of University of Dhaka until she passed away in August 2001. Late Dr. Anam dedicated her whole life to ensure the inclusion of people with special needs in Bangladesh. This award initiative is a small gratitude to her contributions.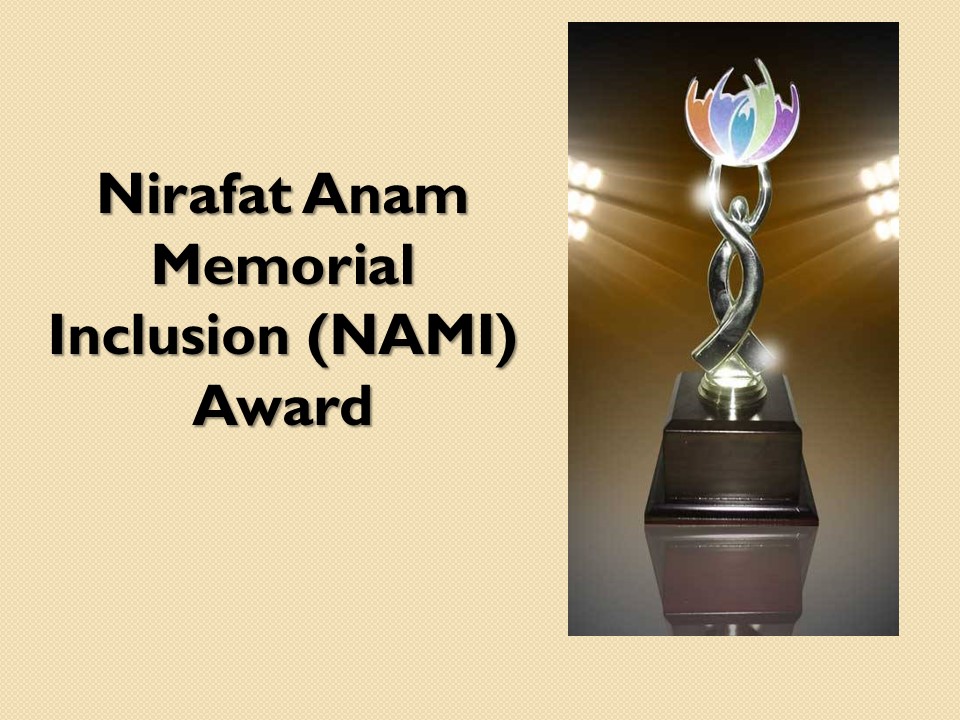 The Award will be dedicated to those devoted people who fulfill the following criteria:
The Awardee has to—
Be Bangladeshi Citizen. *
Have the track record of contributions in the society for a reasonable period of time. **
Have remarkable contributions for inclusion of marginalized people in Development (i.e. education, health, employment, society, economy etc.) in Bangladesh.
Have notable track record of entrepreneurship/innovation/creativity/coverage for reducing exclusion in the society.
Be philanthropic in nature.
* In special cases foreign nationality contributed in equity and inclusion in Bangladesh may be considered.
** In the case of special contribution and or innovation in the field of equity and inclusion the timeline can be considered.
The NAMI Award is declared in every alternative year since 2013 to one citizen in Bangladesh. Anyone can submit propose names to ACIE for consideration for the award with a detailed biography of the proposed person.
About Dr. Nirafat Anam
Dr. Nirafat Anam was working as the Assistant Professor at the Institute of Education and Research (IER), University of Dhaka until she passed away in August 2001 due to Cancer. Dr. Anam served in the field of disability and education for twenty years. Dr. Anam obtained her Bachelor's and Master's Degrees in Zoology in 1980 and 1982 respectively. Besides, she obtained both B.Phil and Ph.D degrees in Education from the University of Birmingham, UK. She was awarded a number of certificates on teaching methods, assessment of children with special needs and slow learner, inclusive education, management of organizations primary curriculum development etc. Dr. Anam was also involved with many research studies in different capacities. She was associated for a long time, very closely with the HICARE, a local NGO, which offered educational opportunities to the children of under privileged children of different part of Bangladesh, especially to those who have hearing-impairments. She published a good number of long and short articles in the recognized peer-reviewed journals and made a notable number of presentations in national and international conferences. Dr. Anam was the co-author of two books. Her last unfinished co-authored book titled "Srobon Protibondhita: Karon, Protikar O Unnoyon Sohayota" was published by her co-authors in 2011, ten years after she passed away. Dr. Nirafat Anam was an active member of several international bodies that include British Association of Teachers of the Deaf (BATOD), UK, Communication Therapy International (CTI), UK and South Asian Regional Centre for Disability, Bangladesh (SARCD). In addition, she was the Convener of the Inclusive education Initiative Group of the National Forum of Organization Working with Disability (NFOWD), member of the Board of Trustee at the Centre for Services and Information on Disability (CSID) and was a Member in the Executive Committee of an NGO named Centre for Disability in Development (CDD). Dr. Anam was the first person in Bangladesh who developed a language assessment tool for Bangla speaking children with hearing-impairments. She also took initiatives for the systematic documentation of Bangla Sign Language. After Salamanca Declaration in 1994, Dr. Nirafat Anam was one of the pioneers in Bangladesh who worked hard to promote inclusive education in Bangladesh. Dr. Anam's love and affection to her profession and social work helped thousands of people with disabilities to be included in the mainstream life
NAMI Award Winners
First NAMI Award 2013 Winner was Professor Emeritus Dr. Sultana S. Zaman, Founder of the Department of Special Education, Institute of Education and Research, University of Dhaka. Second NAMI Award 2015 Winner was Valerie Ann Taylor, Founder of CRP, Bangladesh. Third NAMI Award 2017 Winner was Mr. Monsur Ahmed Chowdhur, Founder of Impact Foundation, Bangladesh. Fourth NAMI Award 2019 Winner was Sir Fazle Hasan Abed, Founder, BRAC. 5th   NAMI Award 2021 Winner was Late Mr. Lindsay Allan Cheyne, Founder, UCEP Bangladesh.