Online Certification Training Program on Equity and Inclusion
Online Certification Training Program on Equity and Inclusion
Course Duration
8 WEEKS, 16 SESSIONS, 48 HOURS
An Initiative of
A s i a n C e n t r e for Inclusive Education (ACIE), Bangladesh
For more details: https://aciebd.org/2022/09/06/online-certification-training-program-on-equity-and-inclusion/
For Further Queries: +8801787888818
Who Can Participate?
Anyone who wishes to understand and learn the philosophy of Equity and Inclusion (e.g. Students, academicians, administrators, employees from different job sectors)
Why would you participate?
Inclusion is an action of creating fairness. Inclusive systems value the unique contributions individuals of all backgrounds bring to the society and allow diverse groups to grow side by side, to the benefit of all
What do you get from participation?
You get to learn the theories and practices of equity and inclusion from the inclusion experts of the country
What do you need to participate?
A smartphone/laptop/PC with an internet connection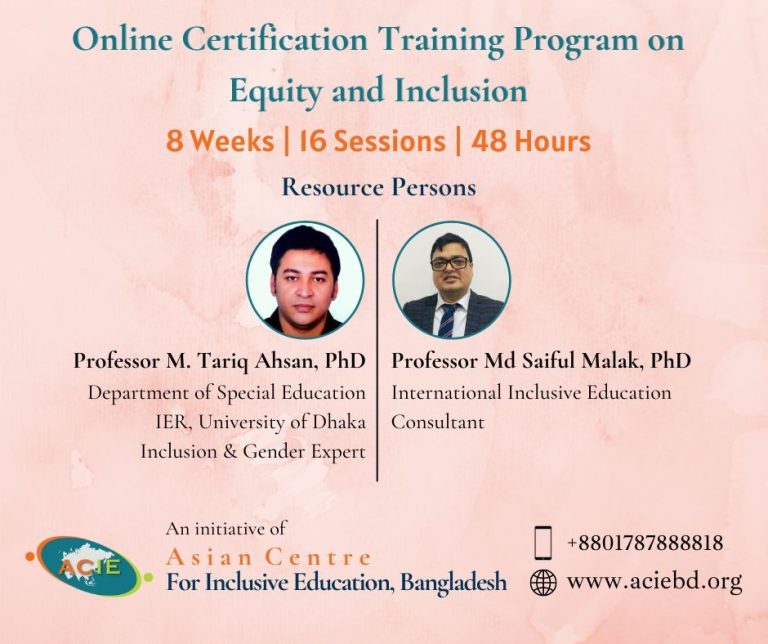 The principles of equity, diversity, and inclusion are intertwined at the micro-level of a community or a team; they are defined by the process of improving the terms of participation (inclusion) and promoting and integrating various perspectives and experiences that are typically underrepresented (diversity), in order to achieve fair access to opportunities (equity).
In general, we must remember that equity, diversity, and inclusion are responses to inequity, homogeneity, and exclusion, which have resulted in unequal access to and distribution of resources and support. We must continue to challenge inequity and discriminatory behavior by recognizing their negative consequences for society as a whole. Promoting inclusion and diversity, as well as advocating for equity, are collective endeavors that require the participation of organizations, governments, and individuals.
While policies exist on equity and inclusion globally, it is our responsibility as citizens, colleagues, peers, friends, or neighbors to support and respect each other's rights to be treated fairly, to be recognized for our abilities, to be respected and appreciated for who we are, and to provide necessary support for those of us who are still marginalized. When we no longer have to wonder if we are sufficiently inclusive, diverse, or fair, these principles will have become the norm rather than a remarkable exception.
Asian Centre for Inclusive Education (ACIE), Bangladesh has taken an initiative to provide an open for all 'Online Certification Training Program on Equity and Inclusion'. This training on Equity and Inclusion is not meant to convince anyone to change their mind or opinion, but rather to make people aware of unconscious bias, cultural competence, and other barriers to diversity, equity, inclusion, and belonging. It can also encourage positive behaviors and attitudes, as well as create an environment in which employees feel comfortable bringing their whole, authentic selves to the society.
This training program will be 8 weeks long with 16 sessions comprised of 48 hours. You will get to learn the theories and practices of equity and inclusion from the renowned inclusion experts of the country. The modality of the training program will be online and you will receive a certificate upon the completion of the 48 hours training program.
The date and program schedule will be announced soon. Keep in touch with Asian Centre for Inclusive Education (ACIE), Bangladesh, for further details…
Visit our website: https://aciebd.org/2022/09/06/online-certification-training-program-on-equity-and-inclusion/