3rd NAMI Award 2017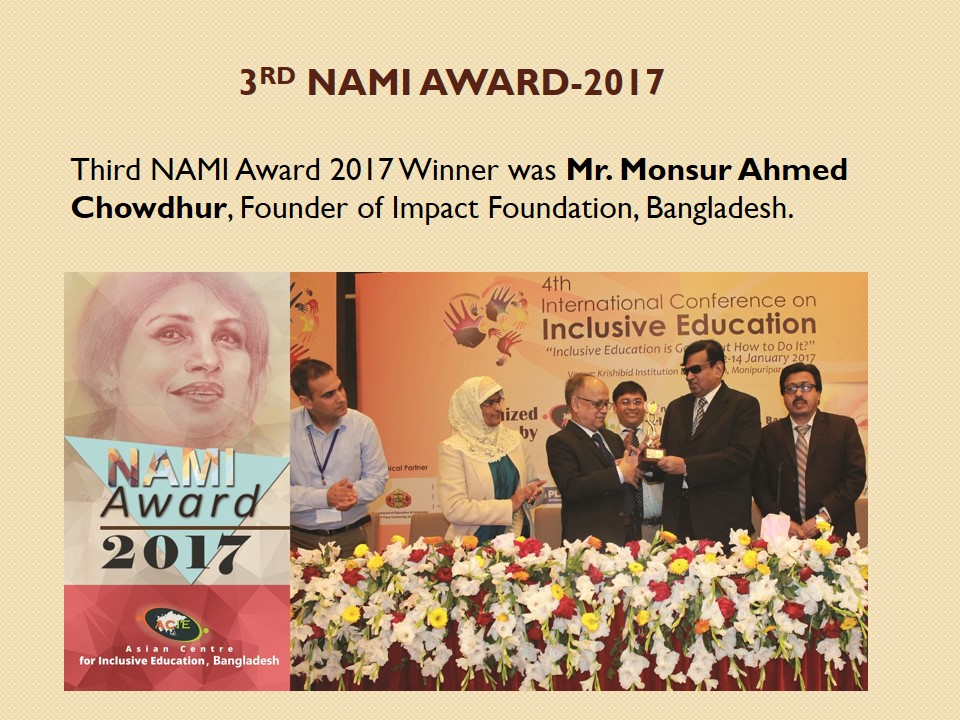 Third NAMI Award 2017 Winner was Mr. Monsur Ahmed Chowdhur, Founder of Impact Foundation, Bangladesh
Monsur Ahmed Chowdhury
Monsur Ahmed Chowdhury – A Visionary Without Sight
Mr Monsur Ahmed Chowdhury is a visionary without sight, born on 15 November 1949. Following a sports
related accident in his very early childhood in 1956, compounded with wrong medical procedures to treat the
problem, he lost his sight completely by early adolescence.
He was the first ever student in the Rotary school for the blind established in
Dhaka in 1957. Mr Chowdhury completed education from University of Dhaka
with Masters Degree in Public Administration in 1974 and BA (Hons) in
Political Science in 1972 respectively.
He started professional career in 1978 as the Executive Officer of the
Bangladesh National Society for the Blind. He served 15 years in different
organizations at home and USA to promote rights and services of the visually
impaired people. Later, he is one of the founders of Impact Foundation
Bangladesh in 1993 along with 4 other dedicated social workers to prevent avoidable disabilities, inspired and
supported by Late Sir John Wilson CBE, Chairman, UK Impact Foundation. IFB operates two hospitals in
Chuadanga and Meherpur, and the pioneering floating hospital – Jibon Tori. The Jibon Tori (boat of life)
travels through rivers of Bangladesh to reach out to millions of rural people. This innovative initiative has
given opportunity to provide modern medical services at the doorsteps of poorer community in riverine areas.
Since 1993, while this has remained his primary job responsibility as Director of this Foundation, Mr. Monsur
Chowdhury has also been involved in numerous other initiatives concerning the overall advancement of the
disability development sector. His activism and work has taken him to almost 44 countries, and he has
contributed in this sector most extensively.
Mr Chowdhury was also instrumental in establishing the National Forum of Organizations Working with the
Disabled (NFOWD) as National Network and Platform for Cross Disability Movement in Bangladesh since
1993. This forum played a vital role in securing from the Government of Bangladesh the National Policy on
Disability (1995), the Disability Welfare Act (2001) and the National Action Plan on Disability (2006). This is
a true example of GO-NGO collaboration, recognized by UN ESCAP as one of its best practices in this
Region. Rights of Persons with Disability and Protection Act (2013) has replaced the earlier Act, pursuing by
NFOWD in line and spirit of UNCRPD.
In 1999, the Government of Bangladesh established the National Foundation for Development of the Disabled
Persons where Mr. Chowdhury was one of the nominated members of the Governing Body of this Foundation.
He was appointed as Managing Director of this Foundation while it was restructured in 2008 through open
competition.
He served as Chairperson of two leading NGOs – Center for Services & Information on Disability (CSID) and
Center for Disability in Development (CDD). In 2005, he founded the Bangladesh Visually Impaired People's
Society (BVIPS) as self help organization for visually impaired people.
Mr. Chowdhury was elected at the first Conference of State Parties as candidate from the Government of
Bangladesh in 2008 securing highest vote at the United Nations and served the Inaugural Committee of
UNCRPD from 2009 to 2012.
He received the following awards and honors:
• Sylhet Ratna Foundation Award-2012
• Life Time Achievement Award-2011 by SINGER Bangladesh and Channel-i ( private television)
• Senior Asoka Fellow Award for Social Entrepreneurship- 2005
• Atish Dipankar Award for Peace- 2004
• Rotary International Humanitarian Services Award-1980
Mr. Monsur Chowdhury was involved in more than 30 studies several publications and conference
presentations.
Brief Professional Record:
• Consultant, World Bank 2009
• Managing Director, Jatio Protibandhi Unnayan Foundation 2008-2009
• Director, Impact Foundation Bangladesh 1993-2008
• Technical Advisor, Helen Keller International 1992-1993
• Advisor, Bangladesh Sangsad Incorporated, New York, USA 1991-1992
• General Secretary, Assistance for Blind Children (ABC), Dhaka 1981-1991
• Executive Officer, Bangladesh National Society for the Blind, Dhaka1978-1980
Involvement in Voluntary Social Work:
• Founder Trustee, Impact Foundation Bangladesh-1993
• Secretary, Social Services and Management Trust (Governing body of Sir John Wilson School)-1995
• Life Member, Dhaka University Alumni Association-2006
• Life Member, Bangladesh China Peoples Friendship Association-2006
• Member, Executive Board, Action Aid International Bangladesh-2010
• Founder Trustee, Abu Subhan Welfare Trust-2012
• Trustee, Biswa Sahittya Kendra-2013
• Member, Executive Board, Disability Council International-2013
Publications:
• The Implications of the UN Convention for People with intellectual Disabilities and their Families-
presented at Inclusion International Asia Pacific Regional Forum in Kathmandu, Nepal in 2011
• Round table meeting on the persons with disabilities in 2010 Organized by the Commonwealth Secretariat at
Marlborough House, London.
• Key note paper of 1 National Conference on Children with disabilities in 2010 at Bhuboneswar, India.
• Reduction of risk during and past disaster for persons with disabilities at the 3 State Parties Conference of
the United Nations in 2010.
• Accessibility and Reasonable Accommodation in 2009 at the 2 State Parties Conference of the United
Nations.
• Disability – existing global trend/focus on Vision 2020, in 2009, published by Action Aid Bangladesh.
Domestic Legislative Measures in Bangladesh and its harmonization with UNCRPD, in 2009, commissioned
by United Nations Economic and Social Commission for Asia and the Pacific (UNESCAP).
• Key Note Address on Disability and Practical Strategies – presented at the 3 General Assembly of Asia
Pacific Disability Forum(APDF) in Dhaka, 2008.
• Louis Braille Memorial Lecture, a vision for an extensive program to be initiated by the Government of
Bangladesh for the comprehensive educational development of persons with visual impairments in Bangladesh,
March 2007
• Influencing the Government – Advocacy & Campaigning for Deafblind People, a paper presented at the 2
Asian Conference of Deafblind International, Dhaka, Bangaldesh, January 2006
• Situation Analysis and Assessment of Education for Children with Disabilities in Bangladesh, South Asia,
East Asia and South Africa, Commissioned by Overseas Development Group, University of East Anglia, UK,
2005
• Attended as a Government Representative at the Final negotiation (8 session) of the formulation of
Convention of the Rights of Persons with Disabilities (UBCRPD) held in UN Head Quarter at New York, USA
in 2006
• Study on How to include Children with Disabilities in mainstream process, 2002
• An Alternative Eye: A Study on the Situation and Prospect of the use of Computer for persons with visual
impairment, Commissioned by Peace Corps –Fredskopset, Norway, 2003
• Documentation of Good Practices on Inclusive Education in Bangladesh, Commissioned by UNICEF
Regional Office, Nepal, 2003
• Educating Children in Difficult Circumstances: Children With Disabilities, Commissioned by the
Department of Primary & Mass Education, Government of Bangladesh, 2002
• Employment Situation of People with Disabilities in Bangladesh, Commissioned by Action Aid Bangladesh,
2002
• Empowerment of Persons with Disabilities (PWD) in Bangladesh through Economic Development, a
Keynote Paper presented in workshop on Disability and Development, May 18-20, 1999
• World Action Plan on Disability of the United Nations and ESCAP Proclamation, a Keynote Paper presented
in National Workshop marking the 7 International Day of the Disabled, Organized by National Forum of
Organizations Working with the Disabled (NFOWD), 7-9 December, 1998
• The State of the Disabled, Published in the State of Human Rights, Bangladesh, 1997.
• Drishti Pratibandhider Nirapad Chalachal, Co-author 1996
• Prevention of Avoidable Disablement: An Approach for Action in Bangladesh, presented in Regional
Seminar on Childhood Disability in Dhaka, December 1994
• Employment opportunities for the Blind and Visually Impaired Problems and Prospects in Bangladesh,
Presented at National Seminar in Dhaka, December 1993
• Blindness Programs in Bangladesh: A mapping report, Principal author-published by Helen Keller
International, Bangladesh, 1993
• Blindness Impact on Socio Economic Life in Bangladesh: Problems and Prospects, Presented in National
Seminar in Dhaka, 1989
• View of Aid Receiving Agencies on the Visually Impaired Programs in Developing Countries, Helsinki,
1986
• Organizational Structure in Developing Countries in RESPO'86 at Arnhem, The Netherlands, 1986
The Disabled Community of South Asia, Paper Presented at the Leadership Training Seminar Sponsored by
the Government of Japan in Cooperation with ILO in Tokyo, 1985
• Role of Blind Leadership, paper presented at the 6 General Assembly of the world Council for the Welfare
of the Blind in Antwerp, Belgium, 1979
• The Role of the White Cane Published in the Bangladesh Observer, Dhaka, 15 October 1976