1st NAMI Award 2013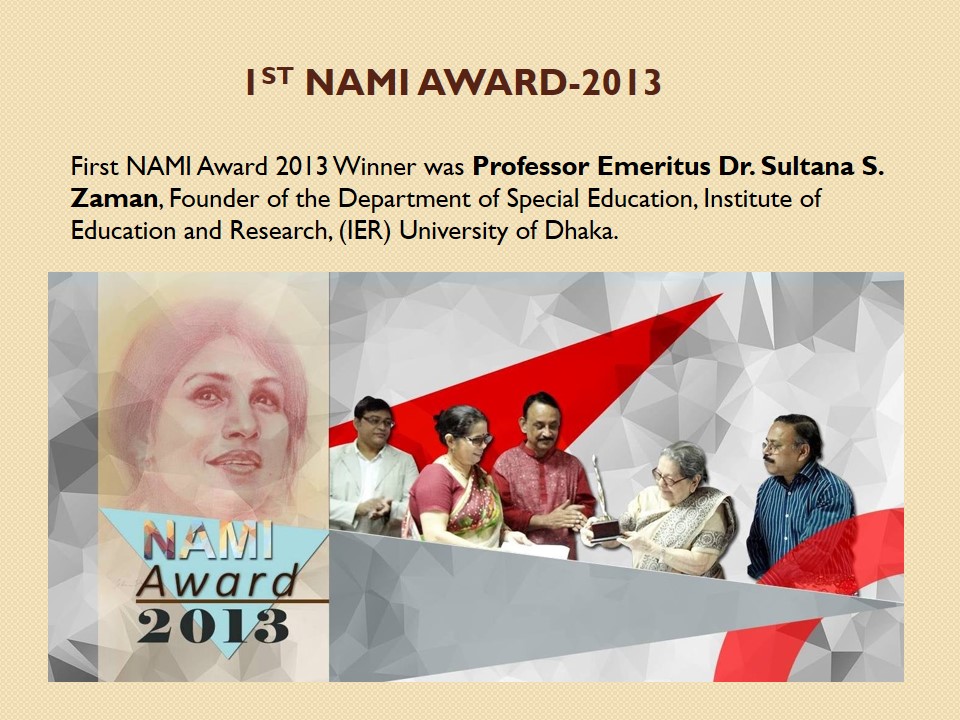 First NAMI Award 2013 Winner was Professor Emeritus Dr. Sultana S. Zaman, Founder of the Department of Special Education, Institute of Education and Research, University of Dhaka.
Dr. Sultana S. Zaman
Professor Emeritus Dr. Sultana S. Zaman was the Founder Chairman of the Department of Special Education of IER, University of Dhaka. She is a dedicated social worker, freedom fighter and a renowned academic. She was born in an eminent family in Chittagong. Dr. Zaman achieved her Masters in Psychology in 1967 from the University of Dhaka. She obtained her PhD in 1975 from the Amory University in the USA. During 1971, Dr. Zaman and her whole family actively took part in the freedom fighting. Her Husband Bir Uttom Colonel Kazi Nuruzzaman was the Sector Commander at the sector 7 during the liberation Dr. Zaman is a well-known philanthropic in Bangladesh and beyond. By conducting social services throughout her life Dr. Zaman tried to ensure inclusion of disadvantaged and marginalized population into different layers of society. In 1972, Dr. Zaman established a school titled "Deepshikha Vidyalaya" for disadvantaged children and women. She was the founder of the SWID Bangladesh, a well-known school for children with intellectual disabilities. In 1984, Dr. Zaman initiated the Bangladesh Protibondhi Foundation (BPF). Through which she took various initiatives to ensure inclusion of children with intellectual disabilities into education, employment and society. Still BPF is successfully continuing its journey with reputation. In 1993, Dr. Sultana S. Zaman initiated the Department of Special Education at the Institute of Education and Research (IER) of University of Dhaka. This Department is now contributing in developing quality human resources for inclusive and special education sectors, generating new knowledge through conducting research on inclusive and special education. In addition, the Department is also providing consultancy services to the Government and NGOs in relation to inclusive education. For her unique contributions, IER at the University of Dhaka awarded her the highest honour of the University known as the Professor Emeritus. Dr. Zaman presented more than 35 key notes in international conferences, author of several books and journal articles.
Dr. Zaman was awarded internationally renowned Henry Kessler Award in 1996 for her contributions. She was awarded Begum Rokeya Padok in 2008 by the Ministry of Women and Children Affairs, Govt. of Bangladesh. Many other national institutions awarded Dr. Sultana S. Zaman for being an icon of inclusion activism in Bangladesh.